Andrew Sochaj
President
Mr. Sochaj and his wife immigrated to Canada in the late seventies and he began working at Cyclone. From his humble beginnings, he quickly was highly regarded as an excellent employee and established the base of operations and directed several projects for his superiors. Through hard work and dedication, Andrew in 1990 acquired full shares of Cyclone Manufacturing Inc. and over the years grew this entity from a 24,000 sq ft facility to 500,000 sq ft, working alongside and developing long term relationships with world renowned Aerospace OEMs. Never satisfied with the status quo, Mr Sochaj continues today in leading our development, through innovation and leadership. Andrew is a graduate of the University of Lublin, Poland, and holds a Bachelor of Engineering (B.Eng.) degree. As a community leader and a patron of the arts, he is always involved in community service. Mr. Sochaj, a proud father of 2 and grandfather of 5, has a strong belief in mentoring the younger generation to succeed.
Robert Sochaj
Executive Vice President
In his early years, Robert showed an enthusiastic interest in the family business and learned the fundamentals of manufacturing aerospace parts from the ground up. Starting from the basics of grinding, conventional milling and throughout his apprenticeship has become a resource for today's new generation of Cyclone employees as he is well versed in all aspects of the aerospace manufacturing process. In 1992, Robert officially joined the Company and over the years, has undertaken material resource planning and inspection with a progression into managerial positions. Currently, Robert is approving materials and asset purchases, negotiating long-term agreements with OEMS and valued customers. As Cyclones Executive Vice President, he is the final customer contact (other than our President). Robert holds diplomas in Mechanical Engineering Technology and Accounting, both from Sheridan College. Never resting on an opportunity to learn, Robert has pursued his professional accreditations in CNC programming – Mastercam, GD&T & CMM Training – Mitutoyo, AQSR approved Quality Auditor, Industrial Health and Safety Training. Robert is a proud father of two.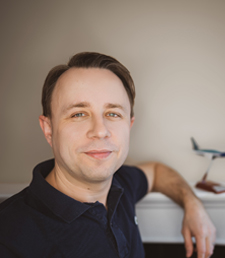 Daniel Dobrjanski
Vice President Business Development
Daniel Dobrjanski is a business development professional with an engineering background and extensive knowledge of the global aerospace industry. He holds an undergraduate degree (BEng) in Aerospace Engineering and a master's degree (MASc) in Mechanical Engineering. Daniel joined Cyclone in 2010 and holds over 15 years of aerospace experience. Daniel started his aerospace career with small aerospace company, where his passion and knowledge of aerospace engineering led him to become an engineering manager after three years upon completion of his MASc. Daniel then moved to an automotive company where he started an aerospace division and was responsible for business development, procurement, quality and engineering planning. Daniels interests include aerospace intelligence gathering, assessment of marketing opportunities and target markets, aerospace global strategy development and business model design. Daniel is a proud father of two.
MARK WARING
Vice President, Operations
Mark Waring has over 40 years of Aerospace experience & has been in the aerospace industry since 1979 – completing an Aircraft Assembly Fitter apprenticeship & later as a Quality Inspector with Short Brother, Belfast. Mark completed a Technical Education Council Certificate in Manufacturing Engineering & Workshop Processes at Castlereagh Technical College, Belfast. Mark & his family then decided to immigrate to Canada in 1987. Since moving to Canada Mark has held various positions in Liaison Engineering, Quality Engineering & Manufacturing Engineering, Senior Management Roles in Quality Assurance, Supply Chain Management & Operations for Aerospace OEM & Tier1 Suppliers.
Mark joined Cyclone in 2013 as VP of Operations and is responsible for day to Operations of the company including Program Management, Engineering & Manufacturing consisting of Machining, Processing & Assembly. Mark is a proud father of 3 children & Grandfather of 3